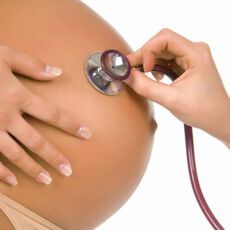 THROMBOTIC RISK MANAGEMENT BEFORE AND DURING PREGNANCY



Thrombophilia and Pregnancy




There have been many studies that have addressed the relationship of inherited and acquired TP with adverse pregnancy outcomes (APO) and thrombosis during gestation and postpartum. FV Leiden and PGMG20210A as risk factors for miscarriage during a 1st intended pregnancy. The two mutations increased risk for PL between the 10th to 19th weeks of gestation and FVLeiden increased risk from the 20th through the 39th week of gestation. It is recommended that patients with prior single PL should be tested for these mutations and that low molecular weight heparin be used to increase the chance for successful pregnancy.




Read more here&




https://www.genpathdiagnostics.com/womens-health/pregnancy-thrombophilia/" target="_blank">https://www.genpathdiagnostics.com/womens-health/pregnancy-thrombophilia/>
More about coalgulation tests and what we should know:




Clinicians frequently order coagulation tests, such as the prothrombin time (PT), activated partial thromboplastin time (aPTT), and thrombin time (TT), to assess blood clotting function in patients. While these laboratory tests may be helpful in elucidating the cause of unexplained bleeding, they are not helpful in predicting if bleeding will occur. In fact, no single test can predict bleeding in the perioperative or post-operative period. Furthermore, these common laboratory tests are of little help in predicting blood clotting or thrombosis in the absence of vessel injury. Well-described assays are available to test for hereditary predisposition to thrombosis, but the majority of thrombophilic states cannot be quantified by any current laboratory tests.Clearly, laboratory assessment of hemostasis presents many challenges for laboratorians and the clinicians who interpret the results. This review briefly explains the common tests used to assess hemostasis, as well as their clinical context, and provides a guide for clinical chemists to assess unexplained bleeding. Clearly, laboratory assessment of hemostasis presents many challenges for laboratorians and the clinicians who interpret the results. This review briefly explains the common tests used to assess hemostasis, as well as their clinical context, and provides a guide for clinical chemists to assess unexplained bleeding.





Read more here:




https://www.aacc.org/publications/cln/articles/2012/january/coagulation-tests" target="_blank">https://www.aacc.org/publications/cln/articles/2012/january/coagulation-tests>
Does fertility therapy increase the risk of longer term cardiovascular outcomes? We are showing here the relation between fertility therapy and cardiovascular disease:
In pregnancy the uterus can compress the left iliac vein and may explain why DVT is significantly more common on the left side in pregnancy (>80% of cases). DVT is more commonly diagnosed in the pelvic venous system in pregnancy (>60% of cases) compared with the non-pregnant population.
Colleagues, we would like to raise in the discussion the following question: Does fertility therapy increase the risk of longer term cardiovascular outcomes?

The use of assisted reproductive technology (ART) has increased tremendously in the past three decades. During the process of ART, supraphysiological estradiol levels with exogenous hormone administration can result. One major complication of this intervention, Ovarian hyperstimulation syndrome (OHSS), is associated with both arterial and venous thromboembolic complications. Thromboprophylaxis should be considered for patients who develop an OHSS moderate to severe for a prolonged period of 1-2 months beyond the resolution of OHSS clinical, and also be considered for patients with a known thrombophily inherited or acquired while undergoing ART.
There may be a ticking time bomb in your veins. It's rare, potentially deadly, hereditary, and worst of all, it's most dangerous to expecting and new mothers. It's called Hereditary Antithrombin (AT) Deficiency. It is among the rarest, most dangerous, and most underdiagnosed of all inherited blood clotting disorders. And it's highly unlikely that your OBGYN will test you for it. The statistics are sobering: patients with Hereditary AT Deficiency have a 20-fold higher risk of blood clots, such as deep vein thrombosis (DVT) or pulmonary embolism (PE). One in three pulmonary embolisms may be fatal. Unfortunately, if you're pregnant, the risk increases even further.In fact, up to 70% of women with Hereditary AT Deficiency who do not receive preventative treatment may experience blood clotting before or after the birth.

Pregnancy increases the risk of venous thromboembolism (VTE) 4- to 5-fold over that in the nonpregnant state. The 2 manifestations of VTE are deep venous thrombosis (DVT) and pulmonary embolus (PE). Although most reports suggest that VTE can occur at any trimester in pregnancy, studies suggest that VTE is more common during the first half of pregnancy (see the image below). Sequelae of DVT and PE include complications such as pulmonary hypertension, post-thrombotic syndrome, and venous insufficiency.